The way we used to do things is changing everyday. With the current invention, it is possible to perform your basic tasks with your smartphones or laptops.

USB microscopes are the latest invention which has proved to be useful in day to day running. They are easier to use than conventional microscopes, which make them ideal even for inexperienced personnel.
Further, USB microscopes are designed to allow high versatility. This is because they come in different styles and designs. With this, it is possible to use these microscopes in various fields while getting high precision result. Since you don't need to look directly like in the older version, they allow close examination.
Now, if you are looking for high resolution and reliable microscopes you are about to get solace. We have selected and created a list of top 10 best USB microscope in 2020 to ensure you enjoy latest digital resolution.
10. Supereyes PZ01 200X USB Digital Microscope Endoscope

If you want the best deal when it comes to UBS microscope, this one from Supereyes is among the top consideration. Designed to improve your performance, the device is suited to various works. Boasting a metal stand, it allows you to examine your specimen with ease and consistency without shaking. Equipped with high magnification lenses, they ensure that the device can magnify an object 1-200 times.
This provides the ability to perform a profound and precise analysis. Additionally, the microscope has a focal length of 1-2 cm which is perfect for sharpening your focusing. It is powered by USB 2.0 and Incorporated CMOS sensor. The 2-megapixel definition and LED light help in delivering high-quality images. The device is compatible with windows, Linux and Mac operating systems.
Pros
Strong metallic stand
Easy to snapshot
High compatibility
Cons
Comes with less helpful manual
  Check price on Amazon


9. AmScope M150C-E-A 40X-1000X LED Microscope with Digital Camera USB Imager

With this student compound microscope enhanced with USB camera Image, your analyzing work just got easier. Designed featuring full glass, this compound microscope is intended to deliver the highest resolution. The 360 degrees rotating monocular gives 5 magnification options, 40, 100, 250, 400 and 1000X. Although this is a compound microscope, it comes with a recording USB camera.
This makes imaging or video recording possible. Moreover, the ability to be compatible with various software enables user-friendly interactions. This microscope is ideal for use in homes, schools, and hobbyist. Unlike other microscopes which depend on natural light, this comes equipped with LED lights which are powered by AA battery or plug in a wall socket.
Pros
High magnification power
Real glass lenses
Excellent LED illumination
Cons
Camera not usable with 10x/25x eyepiece
  Check price on Amazon


8. Andonstar A1 Digital USB Microscope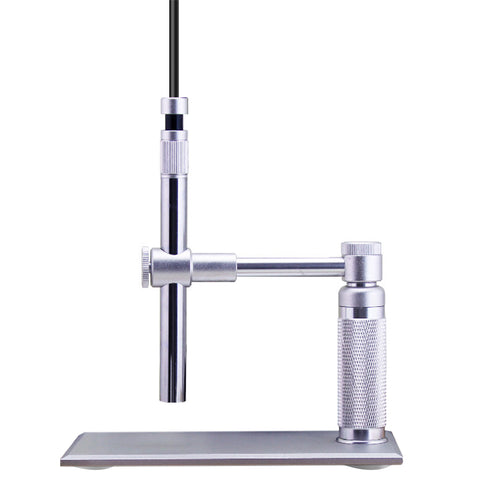 Andonstar A1 Digital USB Microscope is way to go if you want to get exceptional precision in different fields. This Andonstar USB microscope is a great piece of equipment. It offers resolution just like in conventional microscopes hence ideal for home, health facilities and other places. With up 500X resolutions, this device gives clear and precise magnifications. Now, unlike compound microscopes which require a lot of work to focus and observe, this is eliminated with Andonstar.
The device comes with USB enabled camera which gives you the ability to connect it to your computer. As a result, recording videos and images is easy while viewing your results in the monitor. The LED bulbs equipped are great in ensuring proper illumination and are dimmable to provide clear images. For durability, the microscope enjoys aluminum construction which also lightweight. Above all, this microscope features CMOS sensor and 2 MP resolution for satisfying image quality.
Pros
Conventional microscope like resolution
HD pictures and videos output
Dimmable LED light
Cons
Not compatible with Mac Os
  Check price